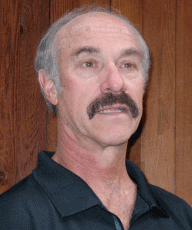 Mike Kinziger, Ph.D.

Author/Inventor
Mike Kinziger is retired from the University of Idaho where he taught and coordinated Outdoor Leadership for 17 years as an associate professor in recreation. In total, Mike taught for 38 years accumulating seventeen teaching and outstanding performance awards. He has taught more than 25 different courses about recreational activities and creative play.
Mike has an extensive outdoor background (whitewater canoeing, fishing, mountain biking, hunting, hiking, camping, cross country skiing, snowshoeing, and backpacking, etc). He holds six long distance canoe records, is a role model for active, healthy lifestyle and since retiring has spent numerous weeks solo paddling in the Canadian wilderness with no human contact. He is currently working on a book titled, "The Canoeing Solo Trifecta".
For more information on Dr. Mike Kinziger click here
In this podcast Dr. Kinziger shares 11 lessons in leadership. (Originally recorded in 2015)